Answers

Aug 22, 2016 - 03:49 AM
This is not currently possible within Aeries. This is a great opportunity to try out Aeries UserVoice, where you can submit your ideas for feature enhancements and thousands of other Aeries users can vote those ideas to the top. This helps the Aeries development team to focus its efforts on the most desired features.

Give it a try by submitting this valid request to http://aeries.uservoice.com/
---

Aug 22, 2016 - 11:40 AM
I tried what you suggested--to suggest this in
AeriesUserVoice,
but got a strange window that did not allow me to submit my idea. I think something is wrong with the link or the page. Please advise. (I also tried going to the site from the Aeries home page--got same strange-looking page that did not allow for input, etc.)
---

Aug 22, 2016 - 12:13 PM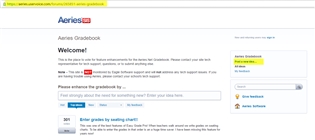 Try this link, in the upper right of the screen, there is a "Post a new idea..." link.
https://aeries.uservoice.com/forums/2...